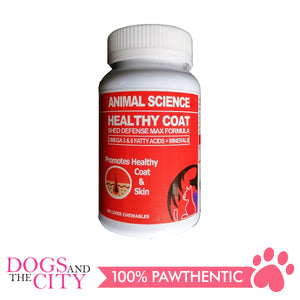 Healthy coat omega 3&6 liver chewables is veterinarian recommended to support skin and coat health in dogs with food or environmental sensitivities or seasonal allergies. Our great tasting chewables contains omega 3 and omega 6 fatty acids (EFA, DHA and GLA ) which become catalyst for healthy skin and glossy coat in dogs. Works quickly to support a soft, silky coat and minimize normal shedding.
SUGGESTED USE:
• 10 lbs - 1/2 tablet twice daily
• 20 lbs - 1 tablet twice daily
INGREDIENTS:
Liver meal, dry whey, di-calcium phosphate stearic acid, cellulose, dried milk , magnesium stearate, flaxseed oil, sunflower oil, magnesium silicate, silicon dioxide.
WARNINGS:
For animal use only. Keep out of reach of children. Do not leave product unattended around pets. In case of overdose, contact your vet immediately.