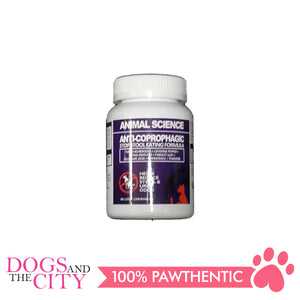 Animal Science Anti-Coprophagic chewables for dogs are an effective solution designed to help adult dogs and puppies kick the bad habit of eating feces. Veterinarian formulated, these liver flavored chewables are easy to disguise in your dog's favorite food.

Directions for Use: One (1) tablet twice daily per 20 lbs body weight. Note: If your pet consumes the feces of another dog or cat, give that animal Animal Science Anti-Coprophagic

Active Ingredients per Chewable:
Yucca Schidigera – 200 mg
Cayenne Pepper – 10 mg
Alpha Amylase – 150 USPu
Parsley Leaf – 200 mg
Glutamic Acid – 50 mg
Chamomile – 50 mg
Thiamine – 100 mcg

Inactive ingredients:
Cellulose, Dextrose, Liver Meal, Magnesium Stearate, Maltodextrin, Natural Flavor, Silicon Dioxide, Stearic Acid.

Key Components -
Yucca Schidigera helps to reduce odors arising from stools and urine to make them less appealing to a dog.
Thiamine is an amino acid, a deficiency of which has been shown to cause coprophagy in Beagles.
Cayenne Pepper imparts an "offensive" taste to the feces.
Glutamic acid makes stools taste very bitter to the dog when mixed with stomach acids.
Digestive enzymes help alter the taste and odor of stool.

Best Use - For puppies or adult dogs that consume their own feces.