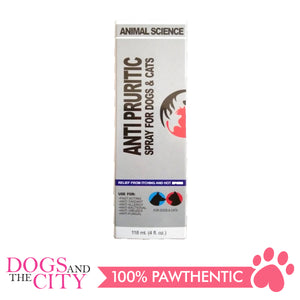 Animal Science Anti Pruritic Spray (relief rom itching and hot spots) for dogs and cats is a veterinary formulated specifically to provide gentle and immediate relief from minor skin irritations caused by insect bites, abrasions, hot spots, superficial cuts and non specific dermatitis.

Anti-Pruritic Spray is formulated with antimicrobial agents and antioxidants to help heal and soothe irritated skin.

It can be applied twice daily, or as needed.