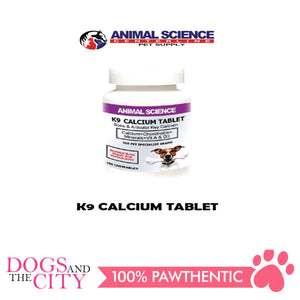 K9 calcium chewable table can effectively improve the absorption and utilization of calcium. increase bone toughness, promptly meet the bone demand for calcium during pet rapid growth to promote bone development. it helps pet stimulate nerve conduction, increase bone density and prevent osteoporosis, help muscle
contraction maintenance cell collagen production.

KEY COMPONENTS
CALCIUM - helps build strong bones ans healthy teeth
CHONDROITIN - effectively supplying glucosamine to promote joint recovery.
CCP - promote absorption and utilization of calcium for pregnant and female dogs.
VITAMIN A & D3 - for normal skin and mucous membrane health and help maintain
resistance to infections and proper absorption of calcium and phosphorus from
intestinal tract.
ZINC, MAGNESIUM, MANGANESE and COPPER - essential minerals important in many biological reactions in the body metabolism.

DIRECTIONS: 1 chewable per 20lbs body weight daily. Continue as needed.