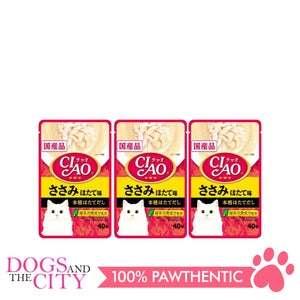 Made paste to eat with Favorite Topping

Also easy to eat for Senior and Kitten
Manufacturing own factory
Contains odor reducing green tea extract

The smooth texture and fragrant smell makes CIAO Soup Pouch highly palatable, even for the pickiest cats!

You can use CIAO Soup Pouch as a topper, mid-day treat or a light meal.

Ingredients: Chicken Fillet (Chopped), Chicken Fillet (Flakes), Modified Tapioca Starch, Scallop Extract, Guar Gum, Bonito Extract, Flavouring Agents, Vitamin E, Carrageenan, Fructooligosaccharides, Green Tea Powder

Guaranteed Analysis Crude Protein    Min. 5.0% Crude Fat    Min. 0.2% Crude Fiber    Max. 0.6% Moisture    Max. 92.5%

Feeding Suggestion:

Weight of Cat     Amount Per Day

2.5kg – 4kg     40g

> 4kg            80g

Suitable for All life stages and breeds.