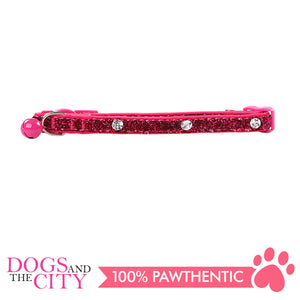 Product Measurement (cm)
30 x 1 x 1
Pawise 28011 Cat Collar-diamond (Rose)

Keep your precious kitty safe and stylish with the Pawise diamond rose cat collar. The collar features a breakaway clip that releases when it becomes entangled, reducing the likelihood of choking. Includes a bell, so you can hear her whereabouts at any given time.

Featuring beautiful diamante studs embedded on sparkly pink glitter, the Pawise range of cat collars are sure to make your cat stand out!

Dimensions: 20cm - 30cm

Caution: Not for use with leash or tie-out. Fit should allow room for 2 fingers to fit between the item and the neck.