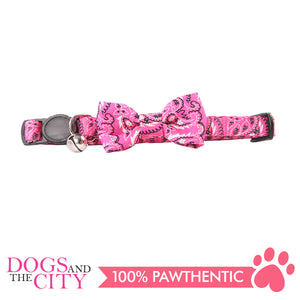 Keep your precious kitty safe and stylish with the Pawise cat bowknot collar. The collar features a breakaway clip that releases when it becomes entangled, reducing the likelihood of choking. Includes a bell, so you can hear her whereabouts at any given time.
Featuring beautiful designs, the Pawise range of cat collars are sure to make your cat stand out!

Product Measurement (cm) 

30x1x0.5cm
Pawise Cat and Dog products are always produced from real first quality raw materials and have a high durable structure.

The designs and textures on the product are manufactured with advanced technology.

While Pawise has a traditional product group such as plush, ball and bone, it also has a new generation of intelligent toys and equipment developed by itself.

The products are CE assured and quality. Since it does not release chemicals, it is 100% harmless to animal health.

Pawise works to have fun with your buddy.